Champion Info (Vayne lane poro patch 10.1)
Vayne Stats
Attack: 60
Defense: 1
Magic: 1
Difficulty: 8
Health: 515
Move Speed: 330
Armor: 23
Range: 550
Health Regen: 3.5
Critical Strike: 0
Attack Speed: 0.658
Vayne
the Night Hunter Marksman Assassin
---
Vayne poro lane
---
LANE
Tier: A
Win Rate: 54.18%
Pick Rate: 11.96%
Games: 52301
KDA: 2.57
Score: 68.00
❝
Shauna Vayne is a deadly, remorseless Demacian monster hunter, who has dedicated her life to finding and destroying the demon that murdered her family. Armed with a wrist-mounted crossbow and a heart full of vengeance, she is only truly happy when slaying practitioners or creations of the dark arts, striking from the shadows with a flurry of silver bolts.
Vayne Tips (Ally)
Tumble has many uses, but it cannot pass over walls.
Condemn can be used to both pin targets to walls to ensure a kill, or to escape a pursuer.
Don't go in first to a large teamfight. Wait for your teammates to initiate.
Vayne Tips (Enemy)
Vayne is fragile - turn the pressure up on her and she will be forced to play cautiously.
Deny Vayne the opportunity to pin you against walls.
Summoner Spells
To the King!

Consumable: 0

Cooldown: 10

Range: 200




Quickly travel to the Poro King's side.

Poro Toss

Consumable: 0

Cooldown: 20

Range: 2500




Toss a Poro at your enemies. If it hits, you can quickly travel to your target as a follow up.
Vayne Masteries
Precision


Press the Attack
Hitting an enemy champion with 3 consecutive basic attacks deals 40 - 180 bonus adaptive damage (based on level) and makes them vulnerable, increasing the damage they take by 8 - 12% from all sources for 6s.

Triumph
Takedowns restore 12% of your missing health and grant an additional 20 gold.



---


'The most dangerous game brings the greatest glory.'
—Noxian Reckoner

Legend: Alacrity
Gain 3% attack speed plus an additional 1.5% for every Legend stack (max 10 stacks).

Earn progress toward Legend stacks for every champion takedown, epic monster takedown, large monster kill, and minion kill.

Coup de Grace
Deal 8% more damage to champions who have less than 40% health.

Domination


Taste of Blood
Heal when you damage an enemy champion.

Healing: 18-35 (+0.2 bonus AD, +0.1 AP) health (based on level)

Cooldown: 20s

Ravenous Hunter
Heal for a percentage of the damage dealt by your abilities.
Healing: 1.5% + 2.5% per Bounty Hunter stack.

Bounty Hunter stacks are earned the first time you get a takedown on each enemy champion.

Healing reduced to one third for Area of Effect abilities.
AttackSpeed
+10% Attack Speed

Adaptive
+9 Adaptive Force

Armor
+6 Armor
Vayne Starting Items (PROBUILD)
Health Potion


BUY: 50

SELL: 20

Limited to 5 at one time. Limited to 1 type of Healing Potion.

Click to Consume: Restores 150 Health over 15 seconds.
Vayne Recommended Items (PROBUILD)
Berserker's Greaves


BUY: 1100

SELL: 770

Limited to 1 pair of boots.

+35% Attack Speed

UNIQUE Passive - Enhanced Movement: +45 Movement Speed

Blade of the Ruined King


BUY: 3300

SELL: 2310

+40 Attack Damage
+25% Attack Speed
+12% Life Steal

UNIQUE Passive: Basic attacks deal 8% of the target's current Health as bonus physical damage on hit.
UNIQUE Active: Deals 100 magic damage to target champion and steals 25% of their Movement Speed for 3 seconds (90 second cooldown).

Minimum bonus physical damage dealt is 15.
Maximum bonus physical damage dealt to monsters and minions is 60.
User's Life Steal is applied to bonus physical damage dealt.

Statikk Shiv


BUY: 2600

SELL: 1820

+40% Attack Speed
+25% Critical Strike Chance
+5% Movement Speed

UNIQUE Passive - Energized: Moving and attacking will make an attack Energized.
UNIQUE Passive - Electroshock: Energized attacks gain 120 bonus magic damage. Energized effects chain to 7 targets.

Guinsoo's Rageblade


BUY: 3100

SELL: 2170

+25 Attack Damage
+25 Ability Power
+25% Attack Speed

Passive: Basic attacks deal 15 magic damage on hit.
UNIQUE Passive - Last Whisper: Gain 15% Armor Penetration.
UNIQUE Passive - Dissolve: Gain 15% Magic Penetration.
UNIQUE Passive: Basic attacks grant +8% Attack Speed for 5 seconds (up to 6 stacks). At max stacks, gain Guinsoo's Rage.

Guinsoo's Rage: Every 3 basic attacks, trigger on hit effects twice.

While at half stacks, melee champions' next attack will fully stack Rageblade.

Infinity Edge


BUY: 3400

SELL: 2380

+80 Attack Damage
+25% Critical Strike Chance

UNIQUE Passive: Critical strikes deal 225% damage instead of 200%.

Bloodthirster


BUY: 3500

SELL: 2450

+80 Attack Damage

UNIQUE Passive: +20% Life Steal
UNIQUE Passive: Your basic attacks can now overheal you. Excess life is stored as a shield that can block 50-350 damage, based on champion level.

This shield decays slowly if you haven't dealt or taken damage in the last 25 seconds.
Super Spicy Snax


BUY: 0

SELL: 0

Active - Feed The King: The King breathes fire for 4 seconds, dealing 705-1479 true damage over the duration to enemies caught in the cone. Deals up to 560 true damage to Turrets. (120s cooldown)

Elixir of Wrath


BUY: 500

SELL: 200

Level 9 required to purchase.

Click to Consume: Grants +30 Attack Damage and Bloodlust for 3 minutes.

Bloodlust: Dealing physical damage to champions heals for 15% of the damage dealt.

(Only one Elixir effect may be active at a time.)
Vayne Active Abilities
| | 1 | 2 | 3 | 4 | 5 | 6 | 7 | 8 | 9 | 10 | 11 | 12 | 13 | 14 | 15 | 16 | 17 | 18 |
| --- | --- | --- | --- | --- | --- | --- | --- | --- | --- | --- | --- | --- | --- | --- | --- | --- | --- | --- |
| | Q | | | Q | Q | | Q | | Q | | | | | | | | | |
| | | W | | | | | | W | | W | | W | W | | | | | |
| | | | E | | | | | | | | | | | E | E | | E | E |
| | | | | | | R | | | | | R | | | | | R | | |
Passive
Q
W
E
R

Night Hunter

Vayne ruthlessly hunts evil-doers, gaining 30 movement speed when moving toward nearby enemy champions.

Tumble


Cooldown: 4/3.5/3/2.5/2

Consumable: 30

Range: 300

Vayne tumbles, maneuvering to carefully place her next shot. Her next attack deals bonus damage.

Silver Bolts


Cooldown: 0

Consumable: 0

Range: 750

Vayne tips her bolts with a rare metal, toxic to evil things. The third consecutive attack or ability against the same target deals a percentage of the target's max health as bonus true damage.

Condemn


Cooldown: 20/18/16/14/12

Consumable: 90

Range: 550

Vayne draws a heavy crossbow from her back, and fires a huge bolt at her target, knocking them back and dealing damage. If they collide with terrain, they are impaled, dealing bonus damage and stunning them.

Final Hour


Cooldown: 100/85/70

Consumable: 80

Range: 1

Readying herself for an epic confrontation, Vayne gains increased Attack Damage, Invisibility during Tumble, reduced Tumble cooldown, and more bonus Movement Speed from Night Hunter
Vayne SKINS
Vayne default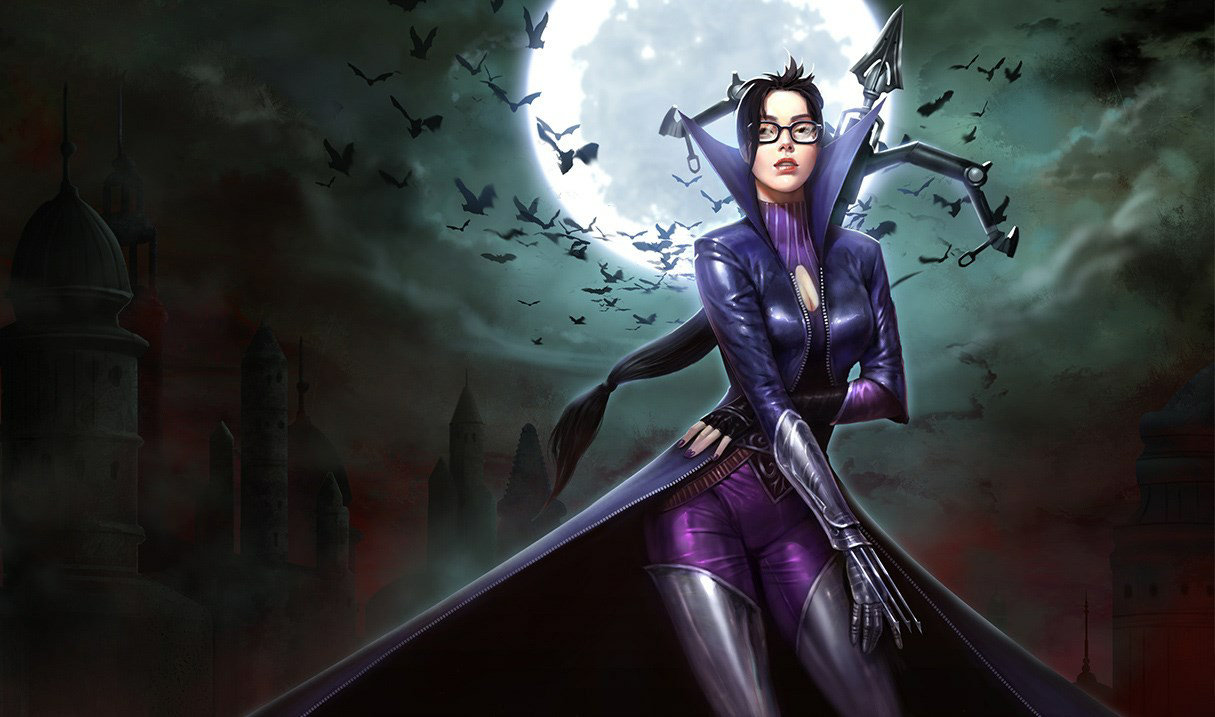 Vindicator Vayne
Aristocrat Vayne
Dragonslayer Vayne
Heartseeker Vayne
SKT T1 Vayne
Arclight Vayne
Soulstealer Vayne
PROJECT: Vayne
Firecracker Vayne
Firecracker Vayne Prestige Edition