[Tutorial] Shyvana Top, Recommended Items | Masteries | Runes | Summoner Spells | Ability - (Mode 5V5)
Champion Info (Shyvana top 5v5 )
Shyvana Stats
Attack: 66
Defense: 6
Magic: 3
Difficulty: 4
Health: 665
Move Speed: 350
Armor: 38
Range: 125
Health Regen: 8.5
Critical Strike: 0
Attack Speed: 0.658
Shyvana
the Half-Dragon Fighter Tank
---
Shyvana 5v5 jungle
---
Shyvana 5v5 top
---
TOP
Tier: Off Meta
Win: 58.97%
Role: 32.11%
Pick: 0.34%
Ban: 0.18%
Games: 50
KDA: 1.88
Score: 51.79
❝
Shyvana is a creature with the magic of a rune shard burning within her heart. Though she often appears humanoid, she can take her true form as a fearsome dragon, incinerating her foes with fiery breath. Having saved the life of the crown prince Jarvan IV, Shyvana now serves uneasily in his royal guard, struggling to find acceptance among the suspicious people of Demacia.
Shyvana Tips (Ally)
Shyvana's abilities all benefit from attacking units. As a result, Attack Speed items are more valuable on her than most champions.
Flame Breath is great to level-up against difficult lane opponents.
Burnout is an ideal choice for jungling. Monsters will be hit by the full duration, and the speed boost improves her ganking potential.
It can be valuable to purchase one of the items that can slow enemies: Frozen Mallet, Dead Man's Plate, or Entropy.
Shyvana Tips (Enemy)
A significant portion of Shyvana's power is generated through aggression, making her weak against opponents who are able to keep their distance.
All of Shyvana's basic abilities hit multiple enemies in dragon form. It's important for opposing champions to not cluster while fighting her.
Shyvana's Fury Bar indicate her ultimate can be activated. Harassing her when she's low on Fury can be very effective.
Summoner Spells
Teleport

Consumable: 0

Cooldown: 360

Range: 25000




After channeling for 4 seconds, teleports your champion to target allied structure. Upgrades to Unleashed Teleport at 14 minutes, which teleports your champion to target allied structure, minion, or ward.

Ghost

Consumable: 0

Cooldown: 210

Range: 200




For 10 seconds, your champion can move through units and gains 24 - 48% Move Speed (depending on champion level). Ghost extends its duration on takedown.
Shyvana Masteries
Precision


Press the Attack
Hitting an enemy champion with 3 consecutive basic attacks deals 40 - 180 bonus adaptive damage (based on level) and makes them vulnerable, increasing the damage they take by 8 - 12% from all sources for 6s.

Triumph
Takedowns restore 10% of your missing health and grant an additional 20 gold.



---


'The most dangerous game brings the greatest glory.'
—Noxian Reckoner

Legend: Tenacity
Gain 5% tenacity plus an additional 1.5% for every Legend stack (max 10 stacks).

Earn progress toward Legend stacks for every champion takedown, epic monster takedown, large monster kill, and minion kill.

Last Stand
Deal 5% - 11% increased damage to champions while you are below 60% health. Max damage gained at 30% health.

Resolve


Overgrowth
Absorb life essence from monsters or enemy minions that die near you, permanently gaining 3 maximum health for every 8.

When you've absorbed 120 monsters or enemy minions, gain an additional 3.5% maximum health.

Conditioning
After 12 min gain +8 Armor and +8 Magic Resist and increase your bonus Armor and Magic Resist by 3%.
Attack Speed
+10% Attack Speed

Adaptive Force
+9 Adaptive Force

Armor
+6 Armor
Shyvana Starting Items (PROBUILD)
Doran's Shield


BUY: 450

SELL: 180

80 Health

Focus: Attacks deal additional damage to minions.
Recovery: Restores Health over time.
Endure: Restores Health after taking damage from a champion, large jungle monster, or epic jungle monster. Restoration increases when you are low Health.

Endure 66% effective when owned by Ranged champions or when taking damage from area of effect or periodic damage sources.



Health Potion


BUY: 50

SELL: 20

Active - Consume: Drink the potion to restore 120 Health over 15 seconds.

You may carry up to 5 Health Potions.


Stealth Ward


BUY: 0

SELL: 0

Active - Trinket: Place a Stealth Ward on the ground that is Invisible to enemies but grants your team vision of the surrounding area. Stores up to 2 Stealth Wards.

Shyvana Recommended Items (PROBUILD)
Ionian Boots of Lucidity


BUY: 950

SELL: 665

20 Ability Haste
45 Move Speed

Gain 12 Summoner Spell Haste.

''This item is dedicated in honor of Ionia's victory over Noxus in the Rematch for the Southern Provinces on 10 December, 20 CLE.'



Iceborn Gauntlet


BUY: 3000

SELL: 2100

400 Health
50 Armor
20 Ability Haste

Spellblade: After using an Ability, your next Attack is enhanced with additional damage and creates a frost field for 2.5s. Enemies that move across the field are Slowed. Your primary target is crippled, applying a 100% stronger slow on them and reducing their damage by 10% against you for 2.5s. (1.5s ).

Mythic Passive: Grants all other Legendary items 50 Health, 5% Tenacity, and 5% Slow Resist.




Demonic Embrace


BUY: 3000

SELL: 2100

75 Ability Power
350 Health

Azakana Gaze: Dealing Ability damage burns enemies for max Health magic damage every second.
Dark Pact: Gain bonus Health as Ability Power.



Warmog's Armor


BUY: 3000

SELL: 2100

800 Health
10 Ability Haste
200% Base Health Regen

Warmog's Heart: If you have at least 1100 bonus Health, restore max Health per second if damage hasn't been taken within 6 seconds.



Thornmail


BUY: 2700

SELL: 1890

350 Health
70 Armor

Thorns: When struck by an Attack, deal damage to the attacker and apply 40% Grievous Wounds if they are a champion.

Grievous Wounds reduces the effectiveness of Healing and Regeneration effects on the target.



Randuin's Omen


BUY: 3000

SELL: 2100

400 Health
60 Armor

Active - Humility: Slow nearby enemies.

Rock Solid: Reduce incoming damage from Attacks.
Critical Resilience: Critical Strikes deal 20% less damage to you.


Stealth Ward


BUY: 0

SELL: 0

Active - Trinket: Place a Stealth Ward on the ground that is Invisible to enemies but grants your team vision of the surrounding area. Stores up to 2 Stealth Wards.


Elixir of Sorcery


BUY: 500

SELL: 200

Active - Consume: Drink to gain 50 Ability Power and 15% Mana Regen for 3 minutes. While active, damaging a champion or turret deals 25 bonus true damage (5s cooldown).

Champion level 9 or greater required to purchase. Elixir of Sorcery's true damage effect has no cooldown when attacking turrets. Drinking a different Elixir will replace the existing one's effects.

Shyvana Active Abilities
| | 1 | 2 | 3 | 4 | 5 | 6 | 7 | 8 | 9 | 10 | 11 | 12 | 13 | 14 | 15 | 16 | 17 | 18 |
| --- | --- | --- | --- | --- | --- | --- | --- | --- | --- | --- | --- | --- | --- | --- | --- | --- | --- | --- |
| | | | Q | | | | | | | | | | | Q | Q | | Q | Q |
| | | W | | | | | | W | | W | | W | W | | | | | |
| | E | | | E | E | | E | | E | | | | | | | | | |
| | | | | | | R | | | | | R | | | | | R | | |
Passive
Q
W
E
R

Fury of the Dragonborn

Shyvana deals bonus damage to dragons and gains Armor and Magic Resistance. As Shyvana and her allies slay more dragons, she gains more bonus Armor and Magic Resistance.

Twin Bite


Cooldown: 7/6.5/6/5.5/5

Consumable: 0

Range: 650

Shyvana strikes twice on her next attack. Basic attacks reduce the cooldown of Twin Bite by 0.5 seconds.

Dragon Form: Twin Bite cleaves all units in front of Shyvana.

Burnout


Cooldown: 12

Consumable: 0

Range: 325

Shyvana surrounds herself in fire, dealing magic damage per second to nearby enemies and moving faster for 3 seconds, part of this damage is applied again when Shyvana basic attacks an enemy with Burnout active. The Move Speed reduces over the duration of the spell. Basic attacks extend the duration of Burnout.

Dragon Form: Burnout grows in size.

Flame Breath


Cooldown: 12/11/10/9/8

Consumable: 0

Range: 925

Shyvana unleashes a fireball that deals damage to all enemies it encounters and leaves cinders on the target, marking them for 5 seconds. Shyvana's basic attacks on marked targets deal a percentage of their maximum Health as damage on-hit.

Dragon Form: Flame Breath explodes on impact or at target location, dealing bonus damage and scorching the earth for a short duration.

Dragon's Descent


Cooldown: 0

Consumable: 0

Range: 850

Shyvana transforms into a dragon and takes flight to a target location. Enemies along her path take damage and are knocked toward her target location.

Shyvana passively gains Fury per second and gains 2 Fury on basic attack.
Shyvana SKINS
Shyvana default
Ironscale Shyvana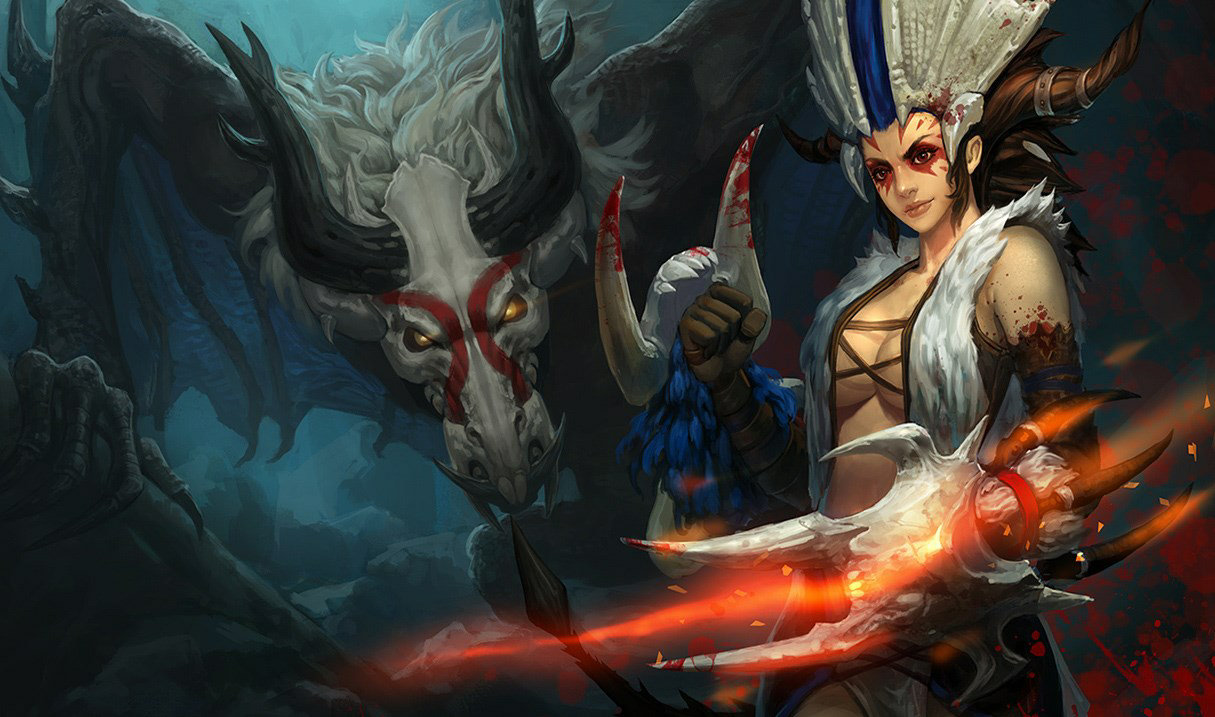 Boneclaw Shyvana
Darkflame Shyvana
Ice Drake Shyvana
Championship Shyvana
Super Galaxy Shyvana
Ruined Shyvana
Shyvana Counters (Over 50% win rate)
Shyvana Countered By (Under 50% win rate)
Irelia top - 5v5
the Blade Dancer