[Tutorial] Skarner Jungle, Recommended Items | Masteries | Runes | Summoner Spells | Ability - (Mode 5V5)
Champion Info (Skarner jungle 5v5 )
Skarner Stats
Attack: 65
Defense: 6
Magic: 5
Difficulty: 5
Health: 650
Move Speed: 335
Armor: 38
Range: 125
Health Regen: 9
Critical Strike: 0
Attack Speed: 0.625
Skarner
the Crystal Vanguard Fighter Tank
---
Skarner 5v5 top
---
Skarner 5v5 jungle
---
JUNGLE
Tier: Off Meta
Win: 85.71%
Role: 62.37%
Pick: 0.82%
Ban: 0.06%
Games: 43
KDA: 5.93
Score: 63.81
❝
Skarner is an immense crystalline scorpion from a hidden valley in Shurima. Part of the ancient Brackern race, Skarner and his kin are known for their great wisdom and deep connection to the land, as their souls are fused with powerful life crystals which hold the living thoughts and memories of their ancestors. In an age long past, the Brackern entered hibernation to avoid untold magical destruction, but recent, threatening events have roused Skarner. As the only Brackern awake, he strives to protect his kind from those who seek to harm them.
Skarner Tips (Ally)
Basic attacks reduce the cooldown of Crystal Slash. Use them as often as possible for maximum damage.
Capturing Crystal Spires before attempting neutral objectives or team fights around them improves Skarner's performance in said fights dramatically.
Impale is extremely powerful when you use it to position an enemy so your allies can attack them.
Skarner Tips (Enemy)
Skarner can't harm you very much outside of short range, so stay away from him!
Skarner's Move Speed is increased as long as his shield, Crystalline Exoskeleton, persists. Attack him to lower his speed.
Skarner is especially dangerous when inside Crystal Spire zones his team controls. Try to capture them ahead of time if a fight may break out around them.
Summoner Spells
Smite

Consumable: 0

Cooldown: 15

Range: 500




Deals 600-1200 true damage to target monster or minion.

Flash

Consumable: 0

Cooldown: 300

Range: 425




Teleports your champion a short distance toward your cursor's location.
Skarner Masteries
Precision


Conqueror
Basic attacks or spells that deal damage to an enemy champion grant 2 stacks of Conqueror for 5s, gaining 2-4.5 Adaptive Force per stack. Stacks up to 12 times. Ranged champions gain only 1 stack per basic attack.

When fully stacked, heal for 8% of the damage you deal to champions (5% for ranged champions).

Triumph
Takedowns restore 10% of your missing health and grant an additional 20 gold.



---


'The most dangerous game brings the greatest glory.'
—Noxian Reckoner

Legend: Alacrity
Gain 3% attack speed plus an additional 1.5% for every Legend stack (max 10 stacks).

Earn progress toward Legend stacks for every champion takedown, epic monster takedown, large monster kill, and minion kill.

Last Stand
Deal 5% - 11% increased damage to champions while you are below 60% health. Max damage gained at 30% health.

Sorcery


Waterwalking
Gain 25 Move Speed and an adaptive bonus of up to 18 Attack Damage or 30 Ability Power (based on level) when in the river.



---


May you be as swift as the rushing river and agile as a startled Rift Scuttler.


Transcendence
Gain bonuses upon reaching the following levels:
Level 5: +5 Ability Haste
Level 8: +5 Ability Haste
Level 11: On Champion takedown, reduce the remaining cooldown of basic abilities by 20%.

Attack Speed
+10% Attack Speed

Adaptive Force
+9 Adaptive Force

Armor
+6 Armor
Skarner Starting Items (PROBUILD)
Gustwalker Hatchling


BUY: 450

SELL: 180

Jungle Companions: Summon a Gustwalker to assist you while in the jungle.
Gustwalker's Gait: When fully grown your companion grants Move Speed after entering brush or killing monsters.



Health Potion


BUY: 50

SELL: 20

Active - Consume: Drink the potion to restore 120 Health over 15 seconds.

You may carry up to 5 Health Potions.


Stealth Ward


BUY: 0

SELL: 0

Active - Trinket: Place a Stealth Ward on the ground that is Invisible to enemies but grants your team vision of the surrounding area. Stores up to 2 Stealth Wards.

Skarner Recommended Items (PROBUILD)
Ionian Boots of Lucidity


BUY: 950

SELL: 665

20 Ability Haste
45 Move Speed

Gain 12 Summoner Spell Haste.

''This item is dedicated in honor of Ionia's victory over Noxus in the Rematch for the Southern Provinces on 10 December, 20 CLE.'



Iceborn Gauntlet


BUY: 3000

SELL: 2100

400 Health
50 Armor
20 Ability Haste

Spellblade: After using an Ability, your next Attack is enhanced with additional damage and creates a frost field for 2.5s. Enemies that move across the field are Slowed. Your primary target is crippled, applying a 100% stronger slow on them and reducing their damage by 10% against you for 2.5s. (1.5s ).

Mythic Passive: Grants all other Legendary items 50 Health, 5% Tenacity, and 5% Slow Resist.




Sunfire Aegis


BUY: 2700

SELL: 1890

500 Health
50 Armor

Immolate: Taking or dealing damage causes you to begin dealing (15 + 1.75% bonus Health) magic damage per second to nearby enemies (increased by 25% against minions) for 3 seconds. Damaging Champions or Epic Monsters with this effect adds a stack, increasing subsequent Immolate damage by 10% for 5 seconds (max stacks 6).




Force of Nature


BUY: 2900

SELL: 2030

350 Health
70 Magic Resist
5% Move Speed

Absorb: Taking magic damage from enemy Champions grants a stack of Steadfast. Enemy Immobilizing effects grant additional stacks.
Dissipate: While at max stacks of Steadfast, take reduced magic damage and gain increased Move Speed.



Dead Man's Plate


BUY: 2900

SELL: 2030

300 Health
45 Armor
5% Move Speed
Shipwrecker: While moving, build up Move Speed. Your next Attack discharges built up Move Speed to deal damage. If dealt by a Melee champion at top speed, the Attack also Slows the target.

''There's only one way you'll get this armor from me...'' - forgotten namesake



Thornmail


BUY: 2700

SELL: 1890

350 Health
70 Armor

Thorns: When struck by an Attack, deal damage to the attacker and apply 40% Grievous Wounds if they are a champion.

Grievous Wounds reduces the effectiveness of Healing and Regeneration effects on the target.


Oracle Lens


BUY: 0

SELL: 0

Active - Trinket: Scans around you, warning against hidden enemy units, revealing invisible traps and revealing (and temporarily disabling) enemy Stealth Wards.


Elixir of Iron


BUY: 500

SELL: 200

Active - Consume: Drink to gain 300 Health, 25% Tenacity, and increased champion size for 3 minutes. While active, moving leaves a path behind that boosts allied champions' Move Speed by 15%.

Drinking a different Elixir will replace the existing one's effects.

Skarner Active Abilities
| | 1 | 2 | 3 | 4 | 5 | 6 | 7 | 8 | 9 | 10 | 11 | 12 | 13 | 14 | 15 | 16 | 17 | 18 |
| --- | --- | --- | --- | --- | --- | --- | --- | --- | --- | --- | --- | --- | --- | --- | --- | --- | --- | --- |
| | Q | | | Q | Q | | Q | | Q | | | | | | | | | |
| | | | W | | | | | W | | W | | W | W | | | | | |
| | | E | | | | | | | | | | | | E | E | | E | E |
| | | | | | | R | | | | | R | | | | | R | | |
Passive
Q
W
E
R

Crystal Spires

Skarner's presence causes crystals to spawn in set locations around the map. Crystals can be captured by either team by standing close to them. When near crystals his team owns, Skarner gains Move Speed, attack speed, and increased mana regeneration.

Crystal Slash


Cooldown: 3.5/3.25/3/2.75/2.5

Consumable: 10

Range: 350

Skarner lashes out with his claws, dealing physical damage to all nearby enemies and charging himself with Crystal Energy for several seconds if a unit is struck. If he casts Crystal Slash again while powered by Crystal Energy, he deals bonus magic damage.

Crystalline Exoskeleton


Cooldown: 13/12.5/12/11.5/11

Consumable: 60

Range: 1

Skarner gains a shield and has increased Move Speed while the shield persists.

Fracture


Cooldown: 14/13.5/13/12.5/12

Consumable: 55

Range: 980

Skarner summons a blast of crystalline energy which deals damage to enemies struck and slows them. Basic attacking these enemies within a short window will stun them.

Impale


Cooldown: 120/100/80

Consumable: 100

Range: 350

Skarner suppresses an enemy champion and deals damage to it. During this time, Skarner can move freely and will drag his helpless victim around with him. When the effect ends, the target will be dealt additional damage.
Skarner SKINS
Skarner default
Sandscourge Skarner
Earthrune Skarner
Battlecast Alpha Skarner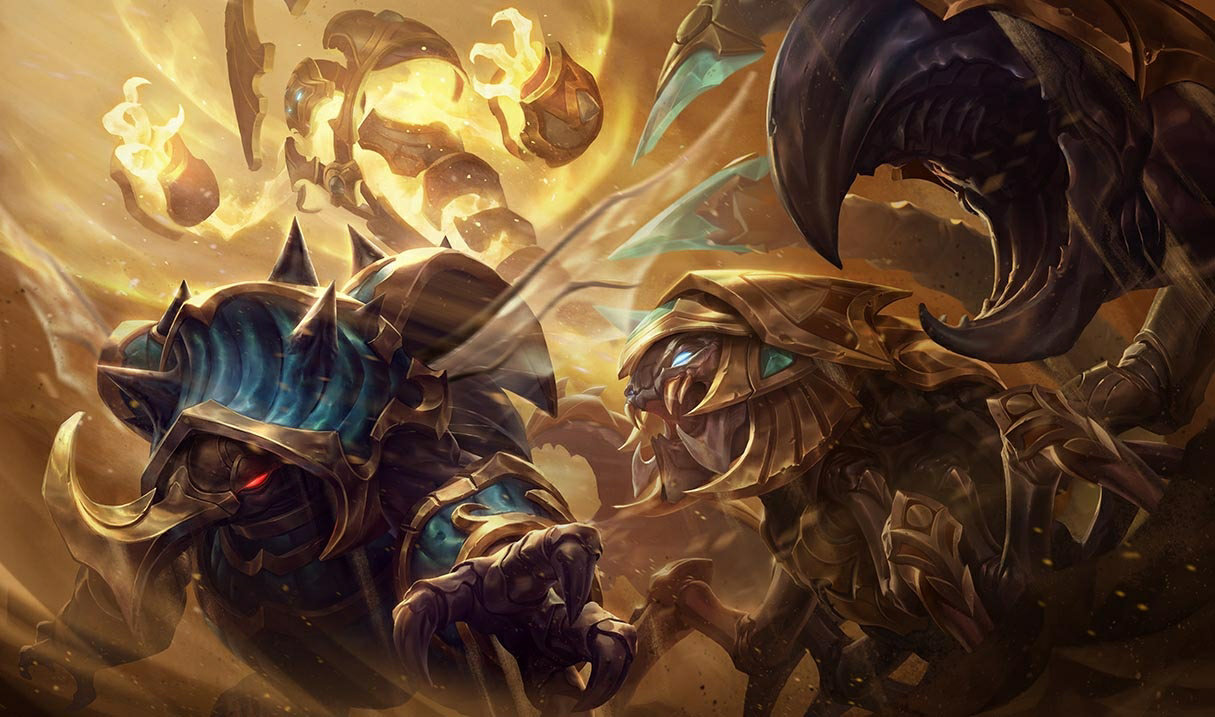 Guardian of the Sands Skarner
Cosmic Sting Skarner
Skarner Counters (Over 50% win rate)
Skarner Countered By (Under 50% win rate)